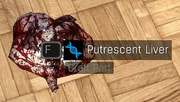 Putrescent Liver is a quest item and craft part that appears in Dying Light. It is used to make Dahlia's Liver Potion.
You receive this item from killing Goons(random) upon acceptance of Dahlia's side quest Hunting Goon. Due to the short duration and side-effects encountered from using the liver potion which limits its use, Goons do not appear to drop any additional putrescent livers upon completion of the side quest.
Community content is available under
CC-BY-SA
unless otherwise noted.